We are here to support
your livelihood.
We are here to support
your food security.
We are here to support
your housing.
Our mission is to find
societal solutions
to poverty in Japan.
About "Moyai"
Moyai is an independent, not-for-profit Organization based in Tokyo, Japan, dedicated to supporting the homeless and underprivileged people start a new life in decent housing, and to achieving lasting solutions to poverty.

The double impact of poverty—financial deprivation and social isolation—hinders citizens living on the street, in parks, hospitals and other temporary shelters, from making a decent, self-sufficient living. Particularly symbolic of social isolation in Japan is the homeless people's shared difficulty in finding a tenant guarantor.*
Moyai aims to overcome social exclusion by assuming legal obligations as a guarantor of those who seek new homes, and by empowering the communities of people with shared hardships and aspirations. Cooperating with partner Organizations with legal, medical, welfare and other expertise, Moyai supports the poverty-stricken people to recover their well-being, and to rebuild the sense of security and belonging in their new neighbourhoods.
We believe that being independent and self-sustaining ("jiritsu" in Japanese) does not mean to live in solitude, but to live as unique, independent individuals in relation to others, relying on one another when we are in trouble.
Our mission is to offer concrete support to the people who find themselves in destitute, and to realise a more inclusive and just society, where every person lives free from exclusion and poverty.
*In Japan, you need to have a guarantor when renting a flat. The guarantor owes the legal obligation to compensate for possible liabilities caused by the tenant, such as delayed rent. Finding a guarantor poses one of the biggest obstacles especially to the homeless and low-income people in Japan when moving into new homes.
What we do
Consultation &
Livelihoods Support Project
Responding to Calls for Help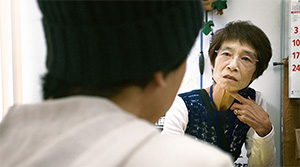 Moyai Helpline
Every Tuesday and Friday, Moyai Helpline is open for anyone in need of assistance with everyday essentials, housing, and financial hardships.
Open Hours:

Tuesday 12 noon – 6:00 pm / Friday 11:00 am – 5:00 pm

Closed:

National Holidays

Telephone:

+81-(0)3-0363-0137
Consultation Day
Every Tuesday (11:00 am – 6:00 pm), Moyai office is open for anyone to visit and consult about homelessness and a range of poverty-related issues.
Supporting Access to Social Welfare
Moyai helps the people in need gain access to social welfare services, by offering advice on application procedures and by accompanying them to the administrative office when applying for the public assistance.
Housing Support Project
Assisting a Fresh Start to Decent Living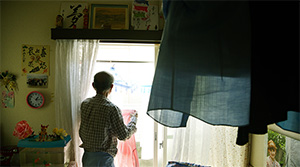 Moyai undertakes the responsibility as the tenant guarantor and the emergency contact of the currently homeless citizens living on the streets, in parks, hospitals and other provisional accommodations, and helps them with a fresh start in adequate housing. Please consult us on the fees and conditions for the guarantor contracts.
We keep in touch with our clients after they settle in new homes, via post sent four times a year and by visiting them for personal conferences whenever necessary.
Community Empowerment
Project
Overcoming Social Isolation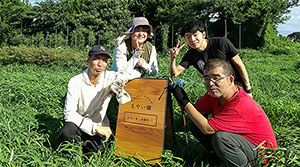 Community Events
To help prevent seclusion, especially after our clients settle in new homes, Moyai brings together the members of the peer support group "Moyai Musubi no Kai" and the wider community for luncheons, holiday outings, and other seasonal events.
Community Café and Intermediate Workplace
Moyai opens the community café "Salon de Café Komorebi," which is open to everyone including people in homelessness.
We also provide intermediate works including coffee-roasting and farm working.
Advocacy & Proposals Project
Making Changes to Politics and Society
Proposals to the Administrative Bodies
Moyai makes factual, up-to-date policy proposals to the decision-makers, the governing authorities, and other public institutions.
Awareness Raising
Moyai engages in raising social awareness of poverty and social exclusion, through daily updates on the website, issuance of the quarterly newsletter "Omoyai Tsu-shin," and other advocacy campaigns. We also give lectures on the issues of poverty at schools and universities, and offers seminars open to the public and local communities.

Organization Profile
Name of the
Organization

Moyai Support Centre for Independent Living

Office
Address

2F Midori Building, 362 Yamabuki-Cho, Shinjuku-Ku, Tokyo 162-0801 Japan

TEL / FAX

TEL: +81-(0)3-6265-0137 / FAX: +81-(0)3-6265-0307

Juridical
Personality

Founded as a private organization on May 17, 2001

Certified by the Tokyo Metropolitan Government as a Specified Non-Profit Organization on March 25, 2003
Registered as a Certified Non-Profit Organization on September 1, 2014 (Notification Number: 26 Sei=to=Chi No. 800)
Renewed on November 29, 2019 (Notification Number: 31 Sei-To-Kan no. 1181)

Board of
Trustees

Chairperson:

Ren Ohnishi

Vice-Chair:

Tsuyoshi Ikeza

Vice-Chair:

Aki Matsuyama

Trustee:

Azusa Kuroiwa

Auditor:

Tetsuo Iwata

Auditor:

Hiroaki Ishii

Secretary
General:

Ayumi Kato

*as of April 2020
History
2001

May

Founded as a private sector organization Moyai, and started the peer support group "Moyai Musubi no Kai"

2001

December

Started free consulting service at 'Space Kabosu' (Shinjuku)

2003

April

Obtained the Specified Non-Profit Organization status as Moyai Support Centre for Independent Living

2004

April

Moved and opened the new office "Komorebi" in Shinjuku, Tokyo

2004

June

Opened the community café "Salon de Café Komorebi"

2006

September

Opened the women's space "Green Necklace" (closed in March 2020)

2007

January

Launched the social business of fair trade, home-roasted "Komorebi Coffee"

2007

September

Opened the youth activity space "Drop-in Komorebi", succeeded by "Lantern Bearer Komorebi" which was closed in July 2019

2014

September

Incorporated as a Certified Non-Profit Organization, registered by the Tokyo Metropolitan Government

2015

February

Launched "Basic Seminar on Poverty" (annual seminar)

2015

March

Published "Lecture Manual on Poverty"

2016-2019

Seminar on 'Learning and Teaching' Poverty

2016

May

Exhibition of 'Homeless Bed' in G7 Summit in Iseshima

2017

Feburary

Published "Lecture Book for Teaching Poverty"

2017

March

Moved to 'Midori Building' (Shinjuku)
Contact us
TEL

+81-(0)3-6265-0137Open: Tuesday 12 noon – 6:00 pm, Friday 11:00 am – 5:00 pm
Closed on national holidays

E-mail